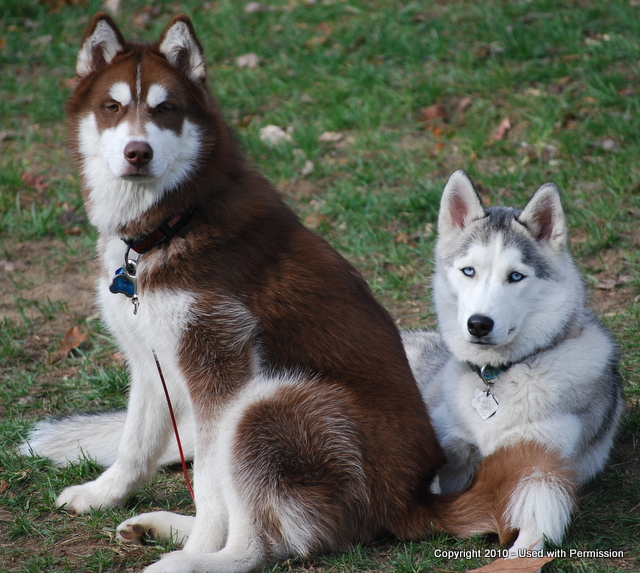 My husband and I started working with Rhonda when our Siberian husky puppy finished up with her puppy classes.  We knew we wanted to continue training but understood that with our particular dog and stubborn nature of the breed, we would need more than sit and stay at a pet store style class.  Rhonda worked one on one with us and we were able to not only teach our dog the behaviors we wanted her to learn, but also understand the theory behind the skills taught.  Later on when we got our second husky, she came back to help us with the transition of bringing a rescue animal into our lives.  Rhonda Voss was a very helpful component of the first successful year of both our dogs, I am certain. 
Jenn and Ken M. from Nashua
Rhonda has been clicker training my Australian Shepherd puppy, Sadie, with me since she was 8 weeks old, and I couldn't be happier with the progress. Rhonda is knowledgeable, patient, and a great trainer to work with. She has not only taught me the fundamentals of clicker training, but has helped me with behavior issues, and guided me with general puppy training issues (e.g., housebreaking, nutrition, and health). The list of behaviors Sadie can perform continues to grow and I'm amazed at how quickly behaviors are learned with clicker training. Sadie, who is now 8 months old, is well on her way to becoming an obedient and well mannered dog, and I have Rhonda to thank for it. 
Kristen W.
Rhonda has given us training tips on how to get our 10 year old cat Mojo to use a cat scratching post. We had tried to train him when he was younger without success. Rhonda advised us on what post to purchase based on his scratching preferences. She then had the patience to work with Mojo and with us in our home to get him to use it. Mojo now uses the scratching post instead of the furniture. Rhonda is a wealth of information regarding dog and cat behavior. She was a big help.  
John and Laurie K..
Rhonda's positive approach to training is very effective~and fun.  She has a firm, yet intuitive style that is helpful as the dog matures in the training process. Working onsite with issues such as greeting at the door and recall makes a lot of sense.  Rhonda is also very open to adapting to the personality of the dog.  She is not a "one size fits all" trainer.  My puppy and I are enjoying the training experience. 
C. S.